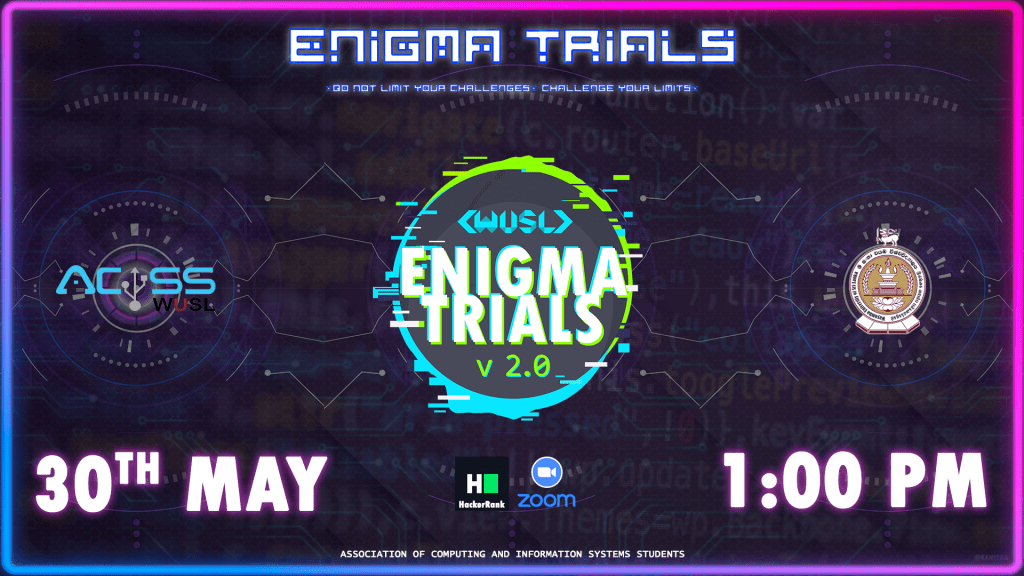 As the young generation who is ready to take over the rapidly developing world, it is vital to have an innovative mindset and the ability to adjust to any given situation. The current pandemic situation throughout the globe has created a negative impact on Sri Lankan undergraduates. The Association of Computing and Information Systems Students of Wayamba University of Sri Lanka decided to make the best out of this worst situation by organizing the "ENIGMA TRIALS V2.0", the much-awaited coding event of the year.
The "ENIGMA TRIALS V2.0" was successfully conducted on the 30th of May 2021 for five hours from 1.00 p.m. to 7.00 p.m. with the active participation of more than 80 participants. An introductory session was conducted through the Zoom platform and the competition was held through the HackerRank technical platform. Among the teams that participated, victory was achieved by the team "Fail Safe" and the teams "Error Terror" and "CodeBlasters" became the 1st runner up and the 2nd runner up respectively. The members of these teams included,
Fail Safe
W. J. W. W. D. T. T. J. Perera
R. D. L. W. Udayanga
H. P. J. Sandaruwan
Error Terror
T. D. N. P. Jayasinghe
W. W. V. K. Gunarathne
D. C. D. Dahanayake
CodeBlasters
E. M. K. A. Edirisinghe
D. Wijesiriwardana
W. L. S. Nilmini
Dr. Tharinda Nishantha Vidanagama the Head of the Department and all the staff members of the Department of Computing and Information Systems played a major role in guiding and supporting the organizing committee. The Association of Computing and Information Systems Students worked extremely hard to bring this competition to an extraordinary level. This event would not be a success without the assistance of all the well-wishers and participants.
By not merely being limited to a competition, "ENIGMA TRIALS V2.0" encouraged our coders to try out new ways and be creative in critical situations. As the developers are expected to step out to the cooperate world in no time, the experience gained from events such as these is of great importance.
President
Kisal basuru bandara
Association of Commuting and Information Systems Students (ACISS)