Department of Mathematical Sciences
Department Of Mathematical Sciences
The Department of Mathematical Sciences was established first in 1996 at the Faculty of Applied Sciences I of then Wayamba Campus of the Rajarata University of Sri Lanka. With Wayamba University established 3 years later in 1999, the Department retained the same name, thus becoming the oldest academic department in the Faculty of Applied Sciences with a history of 25 years as of 2021.
The Department offers course modules in two subject streams, Mathematics & Mathematical Modelling and Statistics, for 3 degree programs namely, 3-year B.Sc. (General), 4-year B.Sc. (Joint Major), and 4-year B.Sc. (Special) in Mathematics with Statistics. Our teaching staff comprise of a number of Ph.D., M.Phil. and Masters Degree holders in diverse areas to deliver these modules in the highest standard with novelty. We are particularly keen on making Mathematics and Statistics very useful but less stressful to the students.
Mathematics and Statistics are two essential subject areas in any degree program available for the students progressing through the Advanced Level Physical Science Stream because it is beneficial to the career of a physical science graduate in many aspects. Learning Mathematics and Statistics will develop many skills in students including independent and logical thinking and working with challenges. It provides students with an opportunity to understand real world problems and to make the world a better place through mathematical and statistical modelling and reasoning.
The Department takes special care to develop logical and independent thinking with analytical skills in undergraduates to face novel and autonomous situations encountered in real life and thereby open many career opportunities after graduation. A significant portion of each degree program is facilitated by practical work in our computer laboratories exposing students to several mathematical and statistical software. The competitive special degree program provides the students with a good platform for higher studies in sub-areas of applied and pure mathematics, statistics, and actuarial science leading to postgraduate qualifications.
The graduates with mathematical and statistical competencies are readily employable because the scope of these subject areas is particularly relevant to boost employability in banking, insurance, engineering, actuarial science, quantitative/ risk analysis, business & economics, operational research, project management, teaching etc. All our programs are standardized periodically with inputs from stakeholders including potential employers from the above sectors. It is a pleasure to note that many of our alumni are successfully employed in these sectors and performing well.
Vision
We have set our vision to become a centre of excellence in the Mathematical Sciences to match the national and global trends.
Mission
Our mission is to provide an undergraduate education rich in mathematical & statistical theory and supplemented by applications in the real world that creates a sound academic background for research and produces competent innovative graduates, who could perform effectively and efficiently in any field related not only to Mathematics and Statistics but also in other disciplines requiring a rigorous mathematics skills.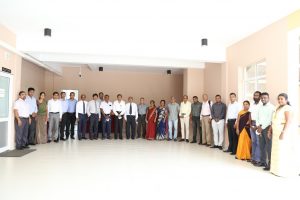 A stakeholder meeting for curriculum revision was successfully conducted by the Department of Mathematical Sciences on the 08th of April, 2021 at the Faculty of Applied Sciences with the objective
Read More »
The Faculty Awards Ceremony of the Faculty of Applied Sciences was held at the Pandith Amaradewa Auditorium on February 20, 2020. Fifty two students who qualified for the Dean's List
Read More »