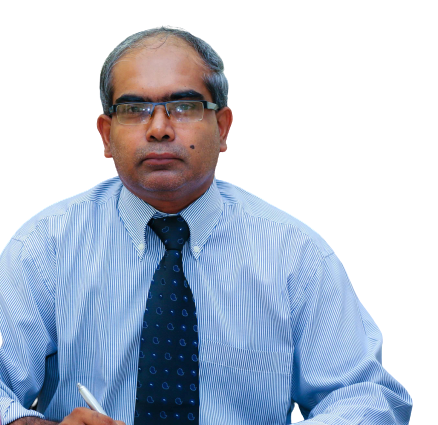 Prof. L.D.R.D. Perera,
Dean/Faculty of Applied Sciences
The Faculty of Applied Sciences was established on 01st October 1999 with the establishment of the Wayamba University of Sri Lanka as one of its four faculties. It was a transformation of the then Faculty of Applied Sciences I of the Rajarata University of Sri Lanka into a fully-fledged Faculty.
At present, four academic Departments are functioning under the Faculty:
Department of Computing & Information Systems
Department of Electronics
Department of Industrial Management
Department of Mathematical Sciences
The Departments offer course modules in the subject areas of Computer Science, Electronics, Industrial Management, and Mathematics, Mathematical Modelling & Statistics, respectively, for the following Degree Programmes.
B.Sc. (General) Degree (3 years)
B.Sc. (Joint Major) Degree (4 years)
B.Sc. (Special) Degree in Applied Electronics
B.Sc. (Special) Degree in Computer Science
B.Sc. (Special) Degree in Industrial Management
B.Sc. (Special) Degree in Mathematics with Statistics
Students from the Advanced Level Physical Science Stream are admitted to follow these degree programmes.  There are three subject combinations comprising of three subjects, to choose from at the beginning of the first year.  The students will continue on these paths for two years until they are selected for Joint Major or Special Degree programs based on their performance at the first two years.
The Joint Major Degree Programme, where students major in two subjects, have a six-months full-time industrial training and a final year project that provide opportunities for students to experience the industrial environment and to master the soft skills sought by the employers.  The special degree programs have been designed to train the students to take up careers especially in the academic and research fields.
All the Degree Programmes are conducted in English medium.  There is a significant practical component involved in every programme, especially with the subjects of Computer Science and Electronics, and sufficient laboratory facilities are available to give the students the required hands-on experience.
Undergraduates have the opportunity to publish and present the results of their projects at the annual Research Symposia of the Faculty.  Each Department has a students' Academic Society through which the students can perform various co-curricular activities.
The degree programs and the subjects offered by the Faculty being more practical based and industry oriented, the graduates of the Faculty have recorded higher employability rates. Our graduates are well employed in positions ranging from middle level upwards in education, banking, management, technology and other fields in the industry and services sectors.
The Faculty continues to enrich its programmes in response to developments in the field of higher education and industry needs.  We strive to equip our undergraduates with knowledge, skills and right attitudes to face the challenges in the wider world or work.
Prof. L.D.R.D. Perera,
Dean/Faculty of Applied Sciences